Synergistic Research RED Quantum Fuses feature proprietary alloy burn wires and end caps encased in anti-resonant ceramic bodies. RED fuses are then treated with 2,000,000 volts of electricity in a process SR calls Quantum Tunneling that alters the conductor at a molecular level for optimum performance.
Unique to Synergistic Research RED Quantum Fuses is a new treatment process applied exclusively to Synergistic Research RED Quantum Fuses that realigns the crystal structure of both the burn wire and the end caps for a refinement in high frequency characteristics and improved timbre linearity.
All told SR RED fuses significantly outperform every other high-end fuse on the market and are the only fuses guaranteed to deliver a significant increase in system performance or your money back. When compared to SR's award winning SR20 Quantum Fuses, SR RED Fuses sound more refined with smoother highs and more linear frequency extension from the deepest bass to the highest highs - no small feat given the remarkable performance of the original SR20 Quantum Fuses.
Synergistic Research RED Quantum Fuses are availble in many variants - small (5x20mm), large (6.3x32mm), fast blow (F) and slow blow (T).
synergistic research
Reference RED Fuses - Red is the New Black!
as reviewed by Robert S. Youman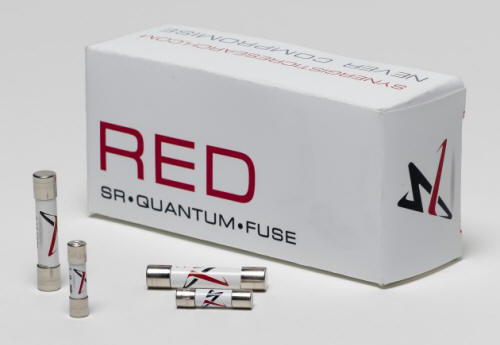 I guess that it's time to finally admit it. In past years I was not much of a "tweaker". I used that term loosely as I would have normally associated it with products like wire, power conditioning and resonance devices. I have come full circle now.
It is a common view these days that these products should absolutely be considered and auditioned in your system to get the ultimate performance from your main components. We are no longer talking tweaks here. These products can be "mind blowers" and should be considered full blooded components on their own. They can be just as essential as everything else in your system.
Having said all that, let's talk fuses. Am I saying that those tiny little introverted and reticent fuses are just as important as the other components in your system?. Well yes and no. Have they made the same impact as my Magico Q7 Speakers? The answer is no. Have they made such an audible difference that no matter who sits down in my listening room (novice or audiophile), the change in sound is immediate and clear? The answer is a resounding yes!!! Like everything else in this crazy hobby of ours, it's all relative but everything and anything can make a difference.
Enter the new Synergistic Research Reference RED Fuses. I lifted the phrase "Red Is The New Black" in this review title right off the Synergistic Research home page. I love the phrase as it greatly resonates with me since I am a huge fan of the superb show on Netflix called Orange Is The New Black. Nice touch and appropriate. Kudos to Ted Denney and Peter Hansen at Synergistic Research. Bottom line though—does it deliver?
Review System
Magico Q7 Speakers
Vitus Audio RI-100 Integrated Amp (w/Phono Stage)
Playback Designs MPS-5 CD/SACD/DAC
VPI Aries Extended Turntable
VPI 12.6 Memorial Tonearm
Van den Hul Frog Cartridge
Synergistic Research Element CTS Power Cords, Interconnects and Speaker Cable
Synergistic Research Powercell 10 SE MK III
MIT SL-Matrix50 Interconnects and SL-Matrix90 Speaker Cables
SRA VA Turntable Isolation Base
Rix Rax Hoodoo Component Rack
Magico QPod Footers
Caveat Emptor
System synergy and personal taste are critical when evaluating high-end audio products. This review is based on my subjective requirements, my subjective ears, my specific system and my specific listening room. These combinations of components are only a few data points of many that exist out there. For further insight into my personal biases, check out the "Meet The Writers" section of Positive Feedback. Please consider my comments and analysis appropriately.
Design
Recently I reviewed two relatively new fuses that have entered the market—the HiFi Tuning Supreme and Audio Horizons Platinum. See that review HERE. I was amazed at the differences that these products could provide to my system. Both had their own contrasts and distinctions, but both were very much preferred to the standard fuses included in my Vitus RI-100 Integrated Amplifier and Playback Designs MPS-5 CD/SACD/DAC.
The Synergistic Research Reference RED fuse is a horse of a different color. The basic design features proprietary alloy wire and end caps utilizing anti-resonant ceramic bodies. They are treated with 2,000,000 volts of electricity that Synergistic Research calls Quantum Tunneling. In addition, Synergistic Research claims that "a new treatment process applied exclusively to RED fuses realigns the crystal structure of both the burn wire and the end caps for a refinement in high frequency characteristics and improved timbre linearity".
Sound
My preference between the two initial after market fuses for my system was the Audio Horizons Platinum (not to say that there might be better synergies that could be realized for the Hi-Fi Tuning Supreme fuses with other systems). In a nut shell, there was a certain amount of new transparency, weight and texture with the Platinum over the standard fuse that just seemed much more right. No other variables that makes this system so appealing were impacted.
The RED fuse has a similar flavor as the Platinum. Again we have additional weight and texture yet it all seemed so much more smoother and natural with the RED. I probably would not have noticed a substantial difference without a direct comparison, but in my system the Platinum seem a little thick and heavy handed on some music.
With the RED in place, this was the best my Playback Systems MPS-5 ever sounded. That typical edge and stridency on certain digital recordings was much better controlled if not gone. Overall, the sound was still superb with the Platinum, but it was no contest for my ears. The RED was easily preferred.
The key differences between the two fuses were the level of detail and the sound stage. I would give the Platinum a grade of A on these variables, but the RED took this to an A++ in my system. I could hear into the music with a new level of detail and speed that was easy to differentiate. The soundstage seemed to double in size for both depth and breadth. Again, easy to hear and realize.
Music
Madeleine Peyrous - Dreamland
Madeleine struck gold and much fame later in her career with several outstanding releases for both performance and sound quality. For me, her first album Dreamland is still my favorite. Yes, many of the tracks sound just a little too much like Billie Holliday. However, for my taste, this makes everything even more appealing. The engineering on this record is superb. With the Red fuses in place, her voice is so transparent and detailed that you can almost visualize her image as she virtually floats like a hologram in your room.
One problem with this recording is that through certain systems, this CD (like most) can have that digital edge and stridency that I mentioned earlier. With the RED fuses, this issue is much better controlled if not eliminated. On Track 2 "Hey Sweet Man", you can easily hear the vivid articulation and lusty bloom in her voice as she wails through her affections for her man. The accompanying guitar is crisp and splashy as it should be—but never over done. The far corners of the recording venue come through clear and strong like never before. You cannot help but sit back and sigh along with her as you listen.
The Ray Brown Trio - Solar Energy
Solar Energy is a standard audiophile favorite. A strong if not all-star lineup includes Ray Brown (bass), Gene Harris (piano), Gerryck King (drums), Red Holloway (tenor saxophone) and Emily Remler (guitar).I have several versions on vinyl and CD, but this new SACD from Analog Productions is mighty impressive.
My favorite cut is "Mistreated But Undefeated Blues". The full band is playing here, unlike many of the other tracks, and the music really kicks in and swings with power and vitality. You can tell that there is a special thing going on with Brown and Harris as the two seem to just melt together as if joined by the hip. Timing and rhythm is whimsical if not brilliant. With the RED fuse in place, Holloway's tenor sax has all the dynamic reedy and transient attack that you could want without that typical digital ringing in your ears. Again we have an expansive sound stage like I have never heard before on digital for this release.
Conclusion
The Synergistic Research Reference RED fuses are an absolute must audition.
Ranging from $89.95 to $99.95 MSRP depending on size and specifications needed, this product is a relatively inexpensive upgrade and can offer clear and immediate sound quality improvements to your system. Very highly recommended!